WELCOME TO PRODIGY GRAPHICS
Quality print, amazing turnaround and the attention you need.
Prodigy Graphics is a trade-only offset printing specialist, serving the printing and finishing needs of North American print resellers, brokers, graphic designers, commercial printers and other print professionals.
From our centrally-located plant just north of Toronto, Ontario, and with both sheetfed and heatset web printing capabilities, our mission is simple:
- deliver the highest quality print,
- as fast as possible,
- at the lowest price possible.
And for over 40 years that's exactly what we've been doing . . . every single day.
IT'S NOT ABOUT US . . . IT'S ABOUT YOU
As a pioneer in trade printing, we know it's all about YOU!
Prodigy Graphics is a wholesale trade printer. With over four decades of experience, we know your print needs are unique, special and different. Whether its booklet printing, poster printing or flyer printing, experience has taught us it all starts by listening . . . listening to you and understanding your unique needs.
OFFSET TRADE PRINTING - What's an Offset Trade Printer and why do I care?
Prodigy Graphics is a specialist in offset trade printing. This means two very important things.
First, we only print offset lithography. We are experts at our craft having spent decades honing and refining every detail.
Secondly, as a Trade Printer we have no in-house sales force. We sell ONLY to print resellers and print professionals - people who know what CMYK, 4/4 and PMS mean.
Why do you care? There are plenty of reasons:
Specialist
Some printers try to be everything to everyone - litho, digital, flat bed, wide format - all under one roof. Experience has taught that E2E leads to N2A - nothing to anyone. Specialists are the way of the world.
At Prodigy Graphics we know our strengths - offset printing and finishing - and that's where we focus our efforts. We know the fine details that go into interlocking packaging printing, double gate brochure printing and fold-out magazine finishing, something generalists simply lack.
No in-house sales force
For most print resellers this is an extremely important detail. As the line between a commercial and trade printer blurs, you need the assurance that your trade printer won't undercut you and solicit your customer directly.
For over 40 years Prodigy Graphics has kept its pledge to NEVER contact our clients' customer. Our print resellers take comfort knowing we blind ship in unbranded packaging that never identifies us. Our name will never appear anywhere on your order.
Trade printers and FSC registration
Some trade printers boast about their Forest Stewardship Council registration. We think their bragging violates the trade printer "anonymous" rule. Why? Once a trade printer prints its FSC number on your piece, a simple search of that number on the FSC Public Search web page will reveal the trade printers identity. And if your customer is the one doing the searching, you're just a few clicks away from losing your customer.
Prodigy Graphics avoids this conflict by NOT being FSC registered. Instead, we encourage clients who require FSC print to become FSC registered themselves, and then support them by being in full compliance at all times with FSC-ADV-40-010 "FSC requirements for outsourcing".
Reliability and quality
Your trade printer is an extension of you, so partner with a dependable, well-established one who has a solid track record. Price is very important but your reputation and livelihood are priceless.
Printing expertise
While most professional print buyers know all the tricks of the trade, occasionally you may need some advice. With over 40 years of trade printing experience there isn't much we haven't seen, so feel free to draw on our wealth of knowledge when it comes to paper and finishing options.
CAPABILITIES
Prepress
It all starts in prepress. From file imposition to proofing, our experienced staff are experts at preparing native files or PDF's.
Prodigy Graphics' prepress capabilities include:
Fuji XMF workflow
Epson Stylus Pro 9900 44" 11 color proofer
Oris Colour Management System
Fuji Javelin 8800 CTP, thermal, 30 plates/hr
Pressroom
Need sheetfed printing? Need heatset web printing?
Web Press
Komori System 20, heatset, 6/6
Variable width up to 20", 23" static cut-off
In-line folder, sheeter, perf, remoisten glue
Sheetfed Presses
41.7" Heidelberg XL106, 6 color + AQ
41.7" Heidelberg XL105, 5 color + AQ
Bindery
And finally, it's Finishing. Trimming, stitching, folding, padding, die cutting, whatever you need, we get it done.
Three Polar Cutting systems (60" & 45") with auto trim and jogger
Muller Martini Bravo saddle stitcher, 6 pockets plus cover
Muller Martini Presto saddle stitcher, 3 pockets plus cover
Stahl and MBO folders with in-line perfing and scoring
Heidelberg Cylinder Die Cutter (maximum 21"x29")
Full perimeter hi-die die cutter (maximum 14"x14")
Other equipment including drills, shrink wrappers, single head stitchers, round cornering machines, padding.
CAREERS
Want to be part of a dynamic, production-focused print company?
Prodigy Graphics is always looking for enthusiastic, reliable and experienced people for many positions throughout our company. If you are passionate about what you do, take pride in your work and understand "the customer is king", we'd like to speak with you.
Please email your resume to hr@prodigygraphics.com
We look forward to hearing from you!
NEWS
March 19, 2020
Thank You
Thanks for getting those menus done in RECORD time
Don
---
February 11, 2020
Job # 9742 FSC Inserts
I've been in the printing industry for almost 40 years and I thought I would take a couple of minutes to compliment your staff.
This was my first time dealing with your company and it's been a very pleasant experience.
Prepress was on their game along with Emilie very good and now Roberta who has been fantastic!
Our press proof guy was also very impressed with your presses and press person.
See you soon!
---
November 21, 2019
Job completed, just letting it dry a bit more before trimming
Just got the posters. Look totally awesome. More than happy. Impressed and thrilled. Thanks so much
---
November 6, 2019
Crusader
Calendars look great! Everyone here loved them.
Thank you,
Dustin
---
October 10, 2019
Project Runway
WOW - That's incredible!
Very nice job!!!
JC
---
July 18, 2019
Thank you!
Thx so much for printing the magazine, and at such lightening speed!
Mark S
---
June 25, 2019
16X20 2019 STANLEY CUP - PICTURE GUYS
will pick up at 2:00pm Tomorrow.
Thanks again for the insta print
JC
---
May 31, 2019
Mondelez challenge
We have received the labels and they look great, thank you!
Jason
---
April 1, 2019
WEDE, he is very happy, great job
Your press guys did a good job say thanks for me
DM
---
July 16, 2018
Purex string tie
I forgot to tell you yesterday, the client is very impressed with the samples, thank your crew, well done.
Don
---
March 9, 2018
Thank you team!
Just a quick note here to thank-you for your efforts on this project last week, very much appreciated! The job looked great and client was very happy!
Rob
---
January 15, 2018
HCA booklets
I dropped off samples on Friday to HCA and they just emailed me saying "Everyone thinks they turned out Awesome" so thank you!
---
December 22, 2017
Merry Christmas
Just wanted to send you an email wishing you and everyone at Prodigy a Merry Christmas and Happy New Year.
I'm really glad we got the chance to work together this year (you guys have been amazing!) and look forward to that throughout 2018.
Thank you for everything!
---
December 22, 2017
Merry Christmas
I wanted to thank you for a great year and for being a great supplier and partner over the years. Looking forward to an even better 2018.
---
December 7, 2017
Client Feedback
Thanks again for turning around that crazy job so quickly. Your staff was very friendly and easy to work with. I appreciate your help.
Michael
---
December 4, 2017
Client Feedback
Excellent work, as always!
Matt
---
November 8, 2017
Client Feedback
The plant has been able to jump thru hoops to have this product ready to ship this evening. EVERYTHING you do is much appreciated!
---
November 8, 2017
Client Feedback
I sent our invoice off to the client yesterday and she thanked us again for getting this done so quickly
Received my samples via FedEx...great work!
---
October 23, 2017
Client Feedback
Don't think I told you that we loved the catalogue you did for us. I'm hoping our next book is ready soon to send your way.
---
March 31, 2017
Enjoy the pizza!
It is a pleasure to work with such a professional organization that just doesn't talk about customer service but stands up and is counted when it matters.
Thank you all...
---
March 21, 2017
Client Feedback on Coupon Project
Just a quick note to thank you all very much for the quick turnaround on this small but important project. It is nice to work with such a professional group...everyone from the Order Desk all the way to Shipping.
Many thanks
BF
---
February 3, 2017
New Client Feedback
Feedback was very positive. The jobs looked great - very clean, vibrant and crisp! They also really appreciated how simple the prepress was (Eg; sending the soft proof as one pdf in booklet format - very few of our printers do that).
When I started this job, one of the first things I did was find new vendors to work with and I have to say, start to end, this was definitely the best experience for a first job I've had!
Thank you,
D
---
December 19, 2016
Thank you for 2016
I am taking a moment right now to say THANK YOU. 2016 has been a very unpredictable year at our end and you have done everything possible to meet our demand.
We would like to wish all at Prodigy a Merry Christmas and the best in 2017. May health, happiness and wisdom follow all of you.
Again thank you and let's see what kind of adventure brings 2017
MJ
---
September 13, 2016
Compliments from a client
We really appreciate the Prodigy team's support. It has been a crazy year so far in our business. We're getting a lot of demands to be responsive, and thankfully Prodigy is helping us meet our customer's needs.
Many thanks,
JB, Senior Manager, Supply Chain
---
June 30, 2016
Customer feedback: LPVA delivery
The booklets look great! Much better bindery work than we received from another printer last year. Thanks for picking up the delivery delay charge, and thanks for all of your help on this project!
David Bell
Pickle Print
---
December 8, 2015
Prodigy Graphics brings Christmas cheer to The Open Door
On December 3rd, Prodigy Graphics brought some extra Christmas cheer to The Open Door in Mississauga with a corporate donation and three shopping carts overflowing with food and supplies donated by its 50 staff members.
Tucked away in the basement of the Square One shopping mall, The Open Door is a welcome oasis for thousands of less privileged Mississauga residents each year. In operation since 1974, The Open Door offers food, grocery store gift certificates, bus tickets, clothing, toiletries and baby supplies as well as a referral counseling service to anyone in the community who is in need. A dinner and two lunches are also served each week.
"We are a lifeline for many families who may be almost invisible in the community," said Lynne Culham, Executive Director. "We operate entirely based on donations and are so grateful to those who generously support our work."
Prodigy CEO Gordon McCauley and Bindery Manager Rafeek Sultan presented the donations on behalf of the company and its employees.
"It's an honour and privilege to make this donation to The Open Door in support of its many important programs. Since 1974 Open Door has been dedicated to ease the burdens of so many in this community who might otherwise have nowhere else to turn," said McCauley. "We in the printing industry face our fair share of challenges but without a doubt our troubles pale in comparison to the suffering and pain seen here every day."
"The support of Prodigy and other donors is especially important at this time of the year," said Lynne. "Many of these families have so little but are surrounded by such wealth. It's a joy to know that they will have a happy Christmas due to the generosity of others."
Prodigy Graphics is a trade-only offset printing specialist, serving the printing and finishing needs of North American print resellers, brokers, graphic designers, commercial printers and other print professionals. It is based in centrally-located plant north of Toronto.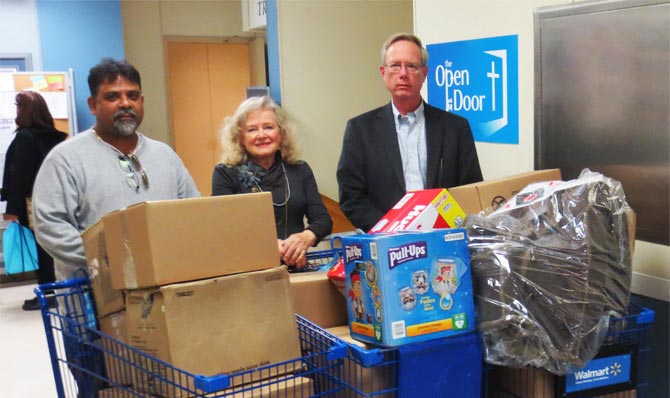 Pictured from left to right are Prodigy Graphics Bindery Manager Rafeek Sultan, The Open Door Executive Director Lynne Culham and Prodigy Graphics CEO Gordon McCauley
---
April 27, 2015
Prodigy customers know
Bindery is where it's finished.
(Trimmed, folded, stitched, packed and on time) PDF - 497KB.
---
April 1, 2015
Prodigy customers know
Prodigy keeps things rolling.
(We meet your deadline ... every time.) PDF - 1.84MB.
---
February 12, 2015
Prodigy customers
get quality from FORM to FINISHING.
(For us it's about more than impressions.) PDF - 1.72MB.
---
January 23, 2015
Prodigy Graphics supports student research project
"I was a student once," says Gordon McCauley, CEO of trade printer Prodigy Graphics, "and I remember what it was like." So when a group of students from the Ryerson University School of Business Management asked if Prodigy would participate in their case study, "yes" was an easy answer.
The group, who is studying Global Management Systems, was led by student Jordan Rotman. Their research started with a plant tour during which they examined printing and bindery processes, features of the facility, inventory and quality control, health and safety and general operating policies. The students asked prepared questions and at the end of the tour engaged in a lively and friendly discussion with their hosts. Following the visit, McCauley received the final report from the group which contained many useful suggestions.
The students were impressed by the scope of the Prodigy operation and the focus on health and safety. "The facility never stops" said Rotman "so I would like to thank Gordon and Pat for giving us the opportunity and taking time out of their day to show us around and chat with us."
"A good group of career-minded students." says McCauley. "And now we have five business students who have a better understanding of business and trade printing."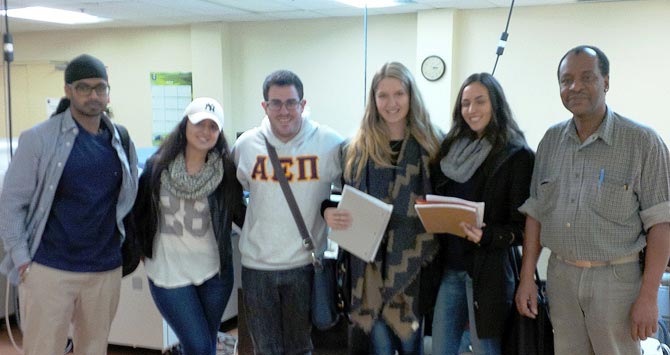 Pictured from left to right are Ryerson students Johvrer Singh Chaggar, Rachel Abecassis, Jordan Rotman, Alana Merdzan, Nicole Bento and Prodigy Pressroom Manger, Patrick Lynch.
---
January 21, 2015
Prodigy customers can
SPOT the difference in the PROCESS.
(Trust Prodigy to be your print expert.) PDF - 1.76MB.
---
December 15, 2014
Prodigy customers know
Quality comes from the people running the equipment.
(Prodigy's people make the difference) PDF - 2.32MB.
---
October 27, 2014
DPI LPI PPI
Trust Prodigy with every inch of your trade printing needs.
(We know our Dots, Lines and Pixels.) PDF - 189KB.
---
August 7, 2014
Prodigy Graphics makes a $12,000 donation to help the homeless
Canadian trade-only printing pioneer Prodigy Graphics of Vaughan, Ontario, founded in 1976, has stepped forward with a $12,000 donation to the Evangel Hall Mission (EHM), a Toronto-based charity that helps homeless and socially isolated individuals find a safe haven from the streets.
In a special July 29 presentation ceremony, Prodigy Graphics' President Gordon McCauley said, "On behalf of Prodigy Graphics, our customers, suppliers and staff, it is my great honour and privilege to make this donation to the Evangel Hall Mission, in support of your many important programs and in recognition of your unyielding dedication to easing the burdens of the homeless. While we in the printing industry face our fair share of challenges, without a doubt our troubles pale in comparison to the suffering and pain you see every day. Please accept our gift and use it to heal that pain." Jo Ann Hislop, Director of Programs at EHM added, "This very generous gift will be put to very good use."
Since 1913, EHM has been reaching homeless persons, many who suffer from poverty and social isolation. Open 365 days a year, EHM offers a daily hot meal, a voluntary trusteeship program, a health and dental clinic including access to 12-step and counselling programs, a clothing bank, as well as programs for women, men and youth. Its youth programs assist more than 100 at-risk young people with social, recreational and educational activities every week. EHM also provides rent-geared-to-income housing for 110 people previously homeless or at risk of becoming homeless.
Established in 1976, Prodigy Graphics is a leading Canadian trade-only offset printing specialist, serving the printing and finishing needs of North American print resellers, brokers, graphic designers, commercial printers and other print professionals from its 65,000-sq.-ft. facility in Vaughan, Ontario.
Credits: Graphic Arts Magazine
URL: http://graphicartsmag.com/news/2014/08/new-prodigy-graphics-makes-12000-donation-help-homeless/
---
February 24, 2014
PRODIGY GRAPHICS ANNOUNCES MANAGEMENT BUYOUT
Management buyout spells bright future for Prodigy Graphics
Trade printer Prodigy Graphics is announcing today that it has undergone a management buyout led by its former CFO Gordon McCauley. Prodigy's former owner, Najib Jamal, will remain connected to the business, stepping into general management and advisory roles.
"This is an important day at Prodigy and we are extremely excited," says Prodigy's new President, Gordon McCauley. "Prodigy has the best customers, the best suppliers, the best staff and solid equipment & systems. The only change our clients will see is an increase in support and attention as we strive to exceed their expectations."
Commenting on the buyout, Jamal says, "Having built this business over the past 22 years, the time is right to further its development by passing control to its leadership team. For years, this team has helped build Prodigy into a premier trade printer and with their vast experience and knowledge, the right people are now in perfect position to service our clients and indeed all stakeholders."
"The new Prodigy is rock solid and everyone here is eager to please our clients. And we're going to have fun doing it," McCauley adds.
McCauley says no major changes are being contemplated but he is considering a change to the visual identity of the business. "That's one of the things we'll be having fun with," he says. "Our customers, suppliers and staff will help us shape our future."
Prodigy Graphics, founded in 1976, is a recognized pioneer in trade printing. From its centrally located plant in Vaughan, Ontario, and with both sheetfed and web printing capabilities, Prodigy Graphics serves the offset printing and finishing needs of Print Resellers, Brokers, Agencies, Graphic Designers and Commercial Printers, locally and across North America.
---
Prodigy Graphics adds high speed Die Cutter
February 19, 2010
Trade printer Prodigy Graphics today announced that it now offers high speed, high precision die cutting with the addition of a new, specialized die cutter.
Capable of producing over 15,000 units per minute, at sizes up to 14"X14", Prodigy is the ideal source for tight tolerance, high volume labels and other full exterior die cut products.
Underscoring its commitment to innovation and its clients, Prodigy's President Najib Jamal said, "We have an important client who found order turnaround time for conventionally die cut labels far too long. So we came up with this solution and now order turnaround far exceeds their expectations."
While solving a specific problem for his customer, Jamal envisions other unique applications for the die cutter. "At Prodigy, we run truckloads of direct mail. In a day and age where the success of a DM stems from uniqueness and innovation, I am pleased to offer a means for our clients to stand apart from the crowd".
For a demonstration, please contact Prodigy at (800) 665-5400.
Established in 1976, Prodigy Graphics is an industry leading trade printer, serving the printing and finishing needs of print brokers/resellers, agencies and other printers, both locally and across Canada. A production focused, offset printing specialist (sheet fed and web) Prodigy also offers a vast array of finishing solutions from its dedicated in-house bindery. All brokers are protected.
---
Press Release
September 23, 2009
Najib Jamal, President of Prodigy Graphics announced today the successful relocation of Prodigy to its new premises at 731 Millway Ave in Concord. Jamal said, "It was quite a task however with the commitment and dedication of numerous individuals, we are now settled, ready to serve our clients even better than before".
Jamal added, "One particular shining light in the monumental task of moving the plant was Steve Morrison of Engineered Business Solutions. Steve and his team were key players in orchestrating the move, ensuring Prodigy remained in production at all times during our transition."
"This move is the first of several steps the new Prodigy will be taking in implementing its strategic plan"
How can we help you?
For more information or to schedule a visit,
please give us a call or send us an email.
We look forward to hearing from you!
Prodigy Graphics
731 Millway Ave
Vaughan Ontario
L4K 3S8
Main Number:
(905) 677-7776
Toronto Line:
(416) 677-7776
Fax Number:
(866) 858-5381
Estimating: extension 4903
estimate@prodigygraphics.com
Order Desk: extension 8052
orderdesk@prodigygraphics.com
Upload directly to ftp
Step 1: Email prepress@prodigygraphics.com to get your unique Username & Password.
Step 2: Using FTP client, please enter the Host: ftp://ftp.prodigygraphics.com and Username & Password that were provided by our Prepress Department and click Connect. Left side represents drives on your Local computer and right is our FTP server. Choose the files you would like to upload and drag them to the right side. After your files finished uploading, please notify our Prepress Department via email that they were uploaded successfully.
In case you don't have the FTP client, please download and install free FileZilla client from https://filezilla-project.org/download.php?show_all=1
Alternatively, using your browser you can go to ftp://ftp.prodigygraphics.com, enter your Username & Password, drag and drop your files directly to our secure ftp. Please note, that some browsers may not be able to upload your files.
Request A Quote